The evolution of stabilized lichen in an artificial version. Carlo Civera, over the years, has always experimented with new ways to introduce nature into artificial spaces. This green philosophy has led to the idea of using artificial lichen to create zero-maintenance vegetable panels and artificial vertical gardens characterized by a great scenic impact. Exploiting the characteristics of this new product, Carlo Civera can create many creative indoor and outdoor projects, satisfying the needs of every client.
Our artificial lichen is fireproof, anti-UV and made with high quality synthetic materials that reproduce the nuances of natural lichen and its typical softness.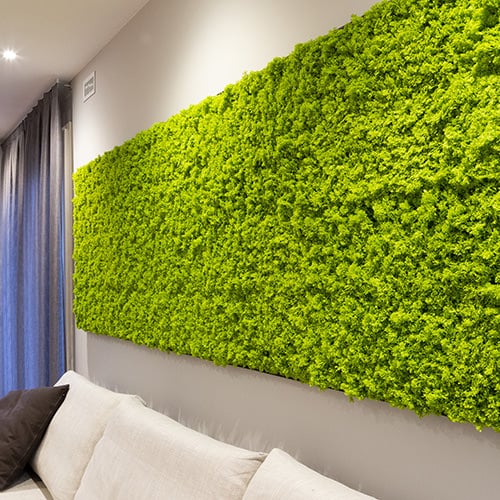 As with our artificial vertical gardens, we do not like standard modules and that is why you can customize every detail, such as:
The size of the panel or wall
The color of the frame (any RAL code)
Using artificial lichen, Carlo Civera combines in his projects both the technical and aesthetic aspects with a single budget. The main feature of this material (as for stabilized lichens) is its high sound-absorbing performance. In addition, it has no bacterial load, does not attract dust, is fireproof, unpleasant to insects, does not grow, does not need to be pruned or irrigated. Thus, it can be used in any projectthat requires zero-maintenance green areas.
Would you like more information about our products or a free quote? Contact us using the dedicated form. Also read our blog to keep up with all the news and our projects.