Ideal for decorating with style
any environment
Highly Realistic to touch and sight synthetic Artificial Flowers, imitating reality in every detail. The experience if our Floral Designer allows us to go beyond the simple floral composition by combining creativity and passion for design. Our creations are bold statements that use form, color and simplicity to produce a dramatic effect.
Our floral compositions conquer not only private customers but also high fashion brands such as Maison Gattinoni.
They are ideal for decorating Hotel Rooms, Restaurants, Shops, Offices, Shop Windows and any environment that needs an extra touch of color.
As with stabilized lichens and artificial vertical gardens, Carlo Civera also creates custom painting and walls using artificial flowers: imagine a ceiling covered with flowers or a wall covered with roses, the scenographic effect of these floral solutions is great.
We are proud to present a new limited edition collection of artificial flowers composed of Hydrangeas, Roses, Peonies, Dahlias, Ranunculus and Zinnia. Thanks to the use of innovative materials we reproduced the natural shades and softness of the natural flowers: the sense of "freshness" when touching the petals is the most beautiful feature of this collection. The flower has been reproduced in its most florid phase and buds have also been added in English Roses. These flowers are perfect for adding a touch of color to any Private Space, Hotel, Restaurant, Beauty Salon and Spa. To enhance their beauty we recommend putting then in clear glass jars filled with distilled water.
Check out the new Collection in our Showroom or ask for more information signing to the form at the bottom of this page (shipping available in all Europe)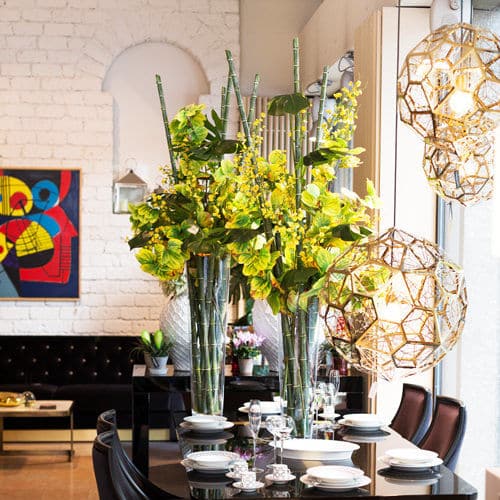 Floral arrangements
Thanks to the experience of our Floral Designer we can create personalized floral arrangements of any kind. Over the years the evolution of materials has led to the creation of collections of artificial flowers highly realistic to the eye but above all to the touch. We can create customized compositions in series to decorate hotel rooms, restaurants and in general all environments that require a coordinated image.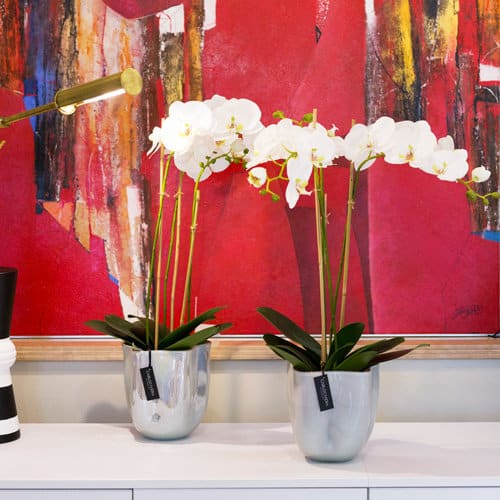 Gift ideas
Surprise someone special with a modern and creative gift. Finding the right item can often be complicated, for this reason Carlo Civera creates a exclusive selection of artificial floral compositions by hand, which satisfy even the most difficult tastes. Birthday, an anniversary, Christmas, Valentine's Day and for many other occasions rely on our experience to create the perfect gift.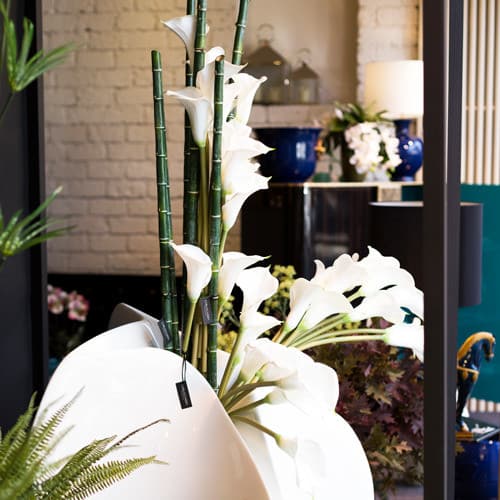 Artwork
Carlo Civera's installations are often compared to contemporary art. An example of this is the combination of our artificial Calla, elegant and soft to the touch, with the Flow vase-sculpture designed by Zaha Hadid. We continuously invest by seeking perfection in every detail: our flowers are always an integral part of the environment and are not simply a background.
We will contact you within 24/48 h
Ideas and advice on the world of artificial green
Projects | Artificial vertical garden – Verona
The renovation of this property, in the heart of the beautiful city of Verona, featured...
6 Reasons to choose an artificial vertical garden
Vegetal wall, green wall or vertical garden: all synonyms to describe the latest trend in...