The renovation of this property, in the heart of the beautiful city of Verona, featured our artificial vertical garden, a work of art identical to the vertical gardens with natural plants both to the eye and to the touch.
After a careful analysis of the spaces, various types of plant essences were chosen together with the customer and the architect, ideal for covering the entire wall of the living area. The final result is spectacular: the vertical garden, thanks to its different shades of green and colored hints, has been able to make the most of the space while giving a feeling of absolute well-being and relaxation.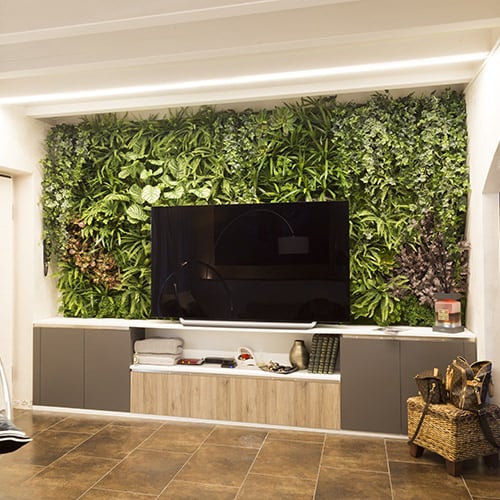 Natural artificial plants have unique veins and nuances: thanks to new technologies and new materials available we have been able to recreate them. The result is an artificial vertical garden identical to the real one to the sight and touch but without all the problems of the real specimens such as the water cost, the masonry works, the dry falling leaves and the maintenance costs (just to name a few) .
Whether it's a home environment, an outdoor terrace, a hotel reception, a shopping center, a shop window, a spa relaxation area or a technical rooftop environment (which needs to be covered out of sight of neighbors), artificial vertical gardens are always the most suitable solution. We have created vertical garden projects in Brescia, Milan, Verona, Genoa, Turin, Parma and Rome. We work closely with architects and designers to support them in their creative projects. Contact us too for a free quote.