We are proud to present a new limited edition collection of artificial flowers composed of Hydrangeas, Roses, Peonies, Dahlias, Ranunculus and Zinnia. Thanks to the use of innovative materials we reproduced the natural shades and softness of the natural flowers: the sense of "freshness" when touching the petals is the most beautiful feature of this collection. Discover all the flowers and shades by visiting the dedicated page.
The flower has been reproduced in its most florid phase and buds have also been added in English Roses. These flowers are perfect for adding a touch of color to any Private Space, Hotel, Restaurant, Beauty Salon and Spa. To enhance their beauty we recommend putting then in clear glass jars filled with distilled water.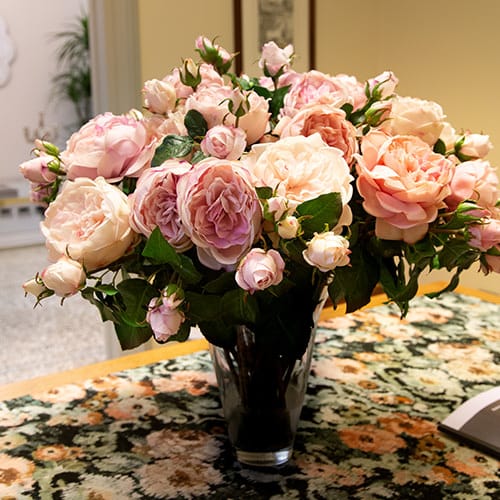 The experience of our Floral Designer also allows us to create personalized floral arrangements by combining creativity and passion for design. Our creations are bold affirmations, which use form, color and simplicity to produce a scenographic effect.
Do you want more information about our products or a free quote? Contact us using the dedicated form. Read also our blog to not miss all the news and our projects.